If you have ever seen a horse-drawn Budweiser parade and keenly want to know all about the Budweiser Clydesdale horses. If so, then yes, you have approached the right place!!!
The Budweiser Clydesdales are Clydesdale horses that the Anheuser-Busch Brewing Company uses for promotions and commercials. There are various "hitches" or teams of horses travelling across the U.S. and other countries. The Budweiser Clydesdale tour happens regularly and it can have an intense schedule. Still, they are kept only in their official residences at the company headquarters at the Anheuser-Busch brewery complex in St. Louis, Missouri, New Hampshire or, Merrimack.
At St. Louis, they are kept in a historical stable built-in 1885. Where eight horses are driven every time, but ten horses on each team are available to provide alternatives for the hitch if required. Also, Budweiser Clydesdale Commercials used as an animal hero for Budweiser beer, especially in super bowl advertising.
First Thing First
History of the Budweiser Clydesdales
Adolphus Busch III and August A. Busch Jr. in 1933 surprised their father, August A. Busch, with the six-horse Clydesdale hitch and issued in memory of the repeal of Prohibition of Beer.
Recognizing the marketing value of a horse-drawn beer wagon, the company also arranged for a second six-horses hitch to be sent into New York to commemorate the event. Making their way to Empire State City, the Clydesdales drew the attention of thousands. After a ceremony, Budweiser presented a case to Governor Alfred E. Smith in appreciation of his many years of service in the fight against prohibition.
This diversion went on a journey to New England and the Mid- Atlantic states, thrilling thousands of people before stopping in Washington, D.C. in April 1933 to re-enact the delivery of the first cases of Budweiser to President Franklin Delano Roosevelt.
The 6-horse Clydesdale squad rose to 8 soon after the first hitch was introduced. The Dalmatian was introduced as the mascot of the Budweiser Clydesdales on March 30, 1950, to celebrate the Anheuser-Busch Newark Brewery launch. Now, along with Clydesdale, a Dalmatian travels.
Origin
The Budweiser Clydesdales
were unveiled to the public for the first time on 7 April 1933 to mark the prohibition's end. August A. Busch Jr. delivered the hitch as a gift to his father August Anheuser Busch, Sr., guided by the ruse outside of the brewery to suggest that his son had bought him a new car. Instead, the horses were accepted, pulling a red, white, and golden wagon with beer. In a remarkable journey down Pestalozzi Street in St. Louis, the hitch carried the first post-prohibition beer case from St Louis's brewery.
Realizing the publicity and promotional value of a horse beer-drawn wagon, Busch Sr. had the team sent by rail to New York City, which picked up the two cases of Budweiser beer at the New Jersey airport and delivered them to Al Smith, former governor of New York, and a key force in the repeal of prohibition. From there, the Clydesdales went on a tour to New England and the Mid-Atlantic States to provide President Franklin D. Roosevelt with a case of water to the White House.
Qualification
To be able to qualify for one of these hits a Budweiser must have a flat-talented, robust, shapely horse-like look, at least four years old, 18 hands at the groin, at least 72 inches, 183 cm, and weight between 1,800 and 2,300 pounds(820 to 1,140 kg). Moreover, any horse must have four white feet and a white blaze on its face (a reddish-brown coat with a black mane and tail). These quality Budweiser Clydesdale horses have quite a busy schedule so they need to be trained and produced to be the best they can be.
Budweiser Clydesdales Farm
A farm is a shelter for animals, and the same is for the Budweiser Clydesdales. Depending on the two important things, i.e., breeding and training Budweiser Clydesdale Farm are classified into Warm springs ranch and Grant's farmhouse. Let's have a look at each Budweiser Clydesdale farm location in detail:- 
1) Warm Springs Ranch
Warm Springs Ranch is the biggest breeding facility for the Budweiser Clydesdales, having 300-plus acres, located in the rolling hills of Missouri, and is about 150 miles west of St. Louis. Established in 2008, a warm spring ranch has mare/stallion and a foaling barn, a veterinary laboratory, and 10 pastures. The farm is house to more than 70 Budweiser Clydesdales ranging from foal to stallions, and almost more than half of the herds are kept on the farm.
2) Grant's Farmhouse
Meet the world-renowned Budweiser Clydesdales at their official school "prep," which is house to over 50 Clydesdales, aged between 6 months and 15 years or older The Budweiser Clydesdale Stables. At Grant's Farmhouse, about 35 mares, stallions, and foals per year, with an average of 15 foals produced each year. Anheuser-Busch owns a total of about 250 Clydesdales across the United States.
It is one of the world's largest herds of Clydesdale horses. Visitors can walk through an area where the majestic beasts rumble and play in pastures. They can also go into a stable where some of the horses are on display. Each horse has a brass plate inscribed with his name. The stables are of course spotlessly clean and new.
The Budweiser Clydesdale Stables
Don't miss seeing the beloved Budweiser Clydesdales Farm
during your visit to Grant's Farm. Across the other side of the parking lot is the Clydesdale Stable at the main entrance. You can see the Clydesdales before arriving at the main gate or when you depart the last station. At the Grant Ranch, there are about 25 Clydesdales. There is also a gift shop in Clydesdale, and you can even shoot with one of the horses.
Traveling hitches
The Clydesdales were initially transported via train. In 1940, cross-country travel by truck was introduced. Today, the travelling hitches are on the road for at least 10 months each year, based in St. Louis, Missouri, Merrimack, New Hampshire, and Fort Collins, Colorado. At St. Louis, numerous tours provide a visit to Budweiser Clydesdale Paddock and Stables. The first hitch to Clydesdale was in Merrimack, New Hampshire. Although horses do not live there anymore, stables are open to visitors. Fort Collins is the home for the West Coast Club at Clydesdales. They can be seen as part of a tour when the horses are not touring, and visitors can have a picture taken with them.
Each team has ten horses to ride. Eight are in harness at any one time when performing, and the other two horses provide alternates for the hitch as required. Many qualified handlers assist each team. Sometimes one trainer has a nighttime duty to care for the horses round the clock. With each hitch, transportation takes three 50-foot semis. Two carry the horses; the third gives a beer wagon with red, white and gold, and other stuff. The horses' comfort is improved with "air-cushioned suspension and thick rubber flooring," and cameras allow the drivers to watch the horses during transportation. The team stops at local stables every night.
Budweiser Clydesdales Super Bowl Commercials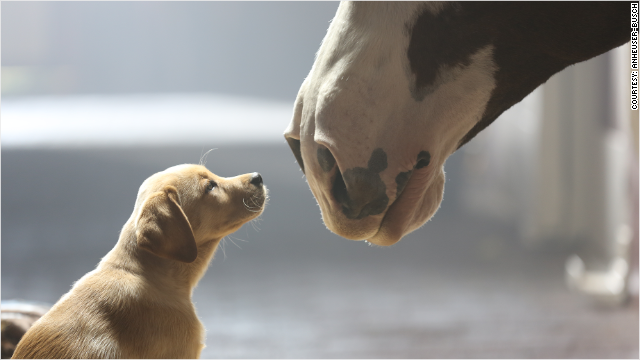 Super Bowl commercials have produced many unforgettable stars over the years- the tiny Darth Vader, Mean Joe Greene, Danica Patrick, that creepy talking infant. Still, none of the things is more enduring and appealing than a team of Budweiser Clydesdale Commercials. Since the 1986 Super Bowl, where the Clydesdales trampled through the snow as a chorus chirped, "where you tell Bud you've said it all," the Budweiser Clydesdales have been part of the big game.
In the 1991, '92 and '95 Super Bowls, the Clydesdales debuted. Still, the 1996 commercial depicted two teams of horses playing football in a snow-covered mountain meadow setting a new norm. Jeff Knapper, the general manager for Clydesdale operations at Anheuser-Busch, said a team of Clydesdales had practiced for several months near Jackson Hole, Wyo, to prepare for the commercial shoot. Horses were trained, first individually and then in groups, to make different movements.
Budweiser Clydesdale Commercials are also among the most famous and remembered — ranging from croaking frogs to puppies to football play at Clydesdales. Read on to know more about the 26 Super Bowl commercials:-
1995- Budweiser Frogs
1996- Football
1997- Copier Salesman
1999- Separated At Birth
2000- Worst Day
2002- Respect
2003- Referee
2003- Replay
2004- Born A Donkey
2005- Snowball Fight
2006- American Dream
2006- Super Fan
2007- Spot Wink
2008- Team
2009- Stick
2009- Circus
2009- Generation
2010- Fence
2011- Wild West
2012- Return Of The King
2013- Brotherhood
2014- Puppy Love
2015- Lost Dog
2016- Not Backing Down
2017- Born The Hard Way
2019- Wind Never Felt Better
Figurine Collectables
A figurine is a tiny, three-dimensional sculpture depicting a person, deity, or animal, or a pair or small group of them. Same as there are various figurine collectibles
of the Budweiser Clydesdale and here are some of them as follows:-
1) Washington Scene- This glorious tribute to the iconic Budweiser Clydesdales world heritage recreates the historic moment when two Budweiser cases were delivered by the Clydesdales to the White House to celebrate the termination of the prohibition. This figure is repeated exhaustively in every aspect of this 18 "x 9" x 11 "image to maintain the historical moment in Clydesdale's history.
2) Scottish Farmer- Scottish shepherd, Figurine, depicts that his Collett, Duffy, is ready as world-renowned Budweiser Clydesdale for a better and bigger future. The faithful farmer collie looks forward to his appraisal of Clydesdale mate. The cold-cast porcelain figurine is backed up by a beautifully built lush grass and authentically steeped stone fence with a dimension 7 inches x 4 1/2 "x 5 7/8 inches.
3) Getting shod– Figurine portrays the persistent care and attention to each Budweiser Clydesdale given as trainers, Tim and Jeff, prepare Deacon for his new shoes. This cold, porcelain cast figure preserves Clydesdale's life from the wooden stall walls to the stable brick floor, which is beautifully crafted and hand-painted.
4) Braiding For Parade- A hand-painted cold-cast figure shows Dave and Eric handlers putting the ultimate touch on Baron's parade uniform. Baron waits patiently, freshly washed, polished and fried, as his tail is twisted and his crumbs rolled because he knows he'll soon be "on the float." His dalmatian partner supervises the project.
5) Five-horse Hitch- This cold, cast handcrafted figure shows a unique five-horse wagon with its particular self hanging under the wagon's bed. Anheuser-Busch used the drastic design of the wagon for training and show purposes. Five Clydesdales are waiting for drivers with their matching harnesses and the faithful Dalmatian.
6) Official horseshoe- This hand-painted Figurine describes that horseshoer 'Tim' leading the Clydesdale 'Sir John' Official Horseshoer truck, a 1953 replica truck. The current horseshoe in Clydesdales is a blacksmith of the 8th century, whose family has been shoeing Clydesdales from thirty-five to forty years.
7) Holiday scene- This hand-painted Figurine depicts a snowy scene with a snow-covered house and passing the popular World Budweiser Clydesdales. It includes snow-covered trees, a stone bridge, vacation decorations, and a finely detailed house.
8) The Bauernhof At Grant's Farm – This Figurine depicts a Budweiser Clydesdale with an eight-horse hitch as it passes to the Grant's Farm, a famous St. Louis destination, "Anheuser-Busch." The farm building and the surrounding details in the area are recreated accurately.
9) Mare and Foal figurine- A bronze-finished porcelain hand painted by cold-cast was made in China. Figurine reveals the strong connection between her foal and Clydesdale's mother. It shows a tender moment as the mother looks at the profile of her foal. Their shorts shine in their muscular frames with each curve, while their males gracefully cascade behind it as if they had a warm summer breeze.
10) Parade Dress Pals- This hand-painted bronze finished porcelain figurine was made in China. Clydesdale's "JIM" and his friend in Dalmatian "BUD" are featured in Figurine's parade dress.
Did you know?
Each handcrafted strap and collar of Clydesdales weighs about 130 pounds.
The Budweiser Clydesdales have short names like duke, Mark, and Bud, so that the driver can quickly give instructions to the horses during a game.
The horseshoes of Budweiser Clydesdales are more than 20 inches long and weigh 5 pounds.
Dalmatians were referred to as coach dogs because they raced around the wheels of coaches or wagons, and they were horse companions. Dalmatians travelled on the Budweiser Clydesdales hitch, hung on top of the wagon proudly sitting next to the driver since the 1950s.
Conclusion
The Budweiser Clydesdale horses are a group Clydesdale and are majorly used for commercial ads. They are used every year for a different campaign and are found mainly in Grant's Farmhouse or Warm Springs Ranch. Hopefully, this in-depth detailed guide will enrich your knowledge about Budweiser Clydesdale Commercials.
More Exciting Posts To Read

History of the Clydesdale Horse (All You Need To Know)
Top 15 Fascinating Facts About The Clydesdale Horse

Recent Posts